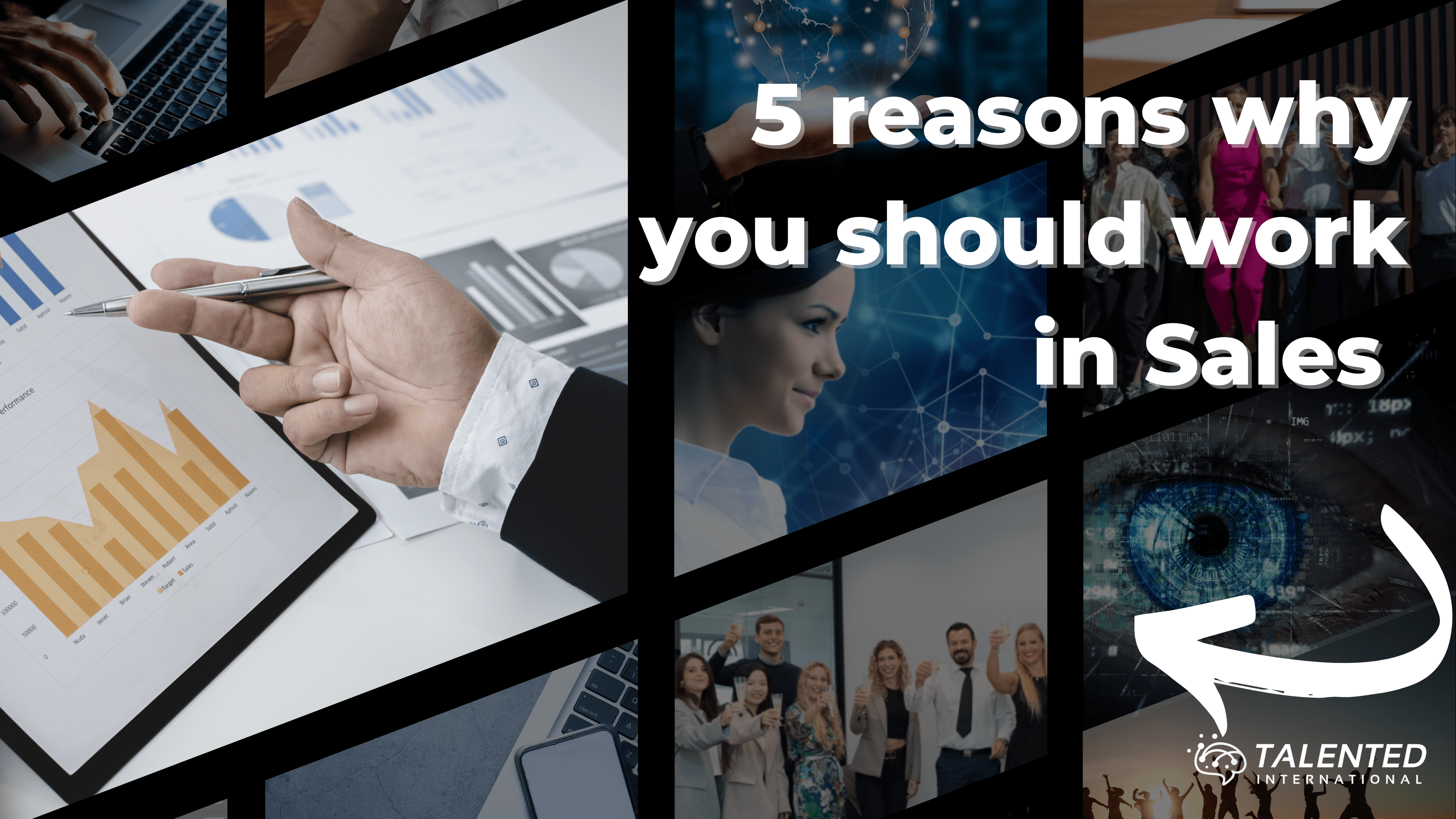 5 Reasons to Work in Sales
Anaelle Guyomard
Talented International
Why work in sales? Have you ever asked yourself this question?
The field of sales is extremely broad and can be adapted to many profiles and sectors of activity. If you still have doubts, now is the time to go for it!
This article will show you 5 advantages of working in sales!
Sales, a field that is always recruiting.
There is no shortage of jobs in sales! Even if the company you work for does not survive, you will always be able to find a job!
Companies will always need sales representatives to sell their products or services. Also, sales is very broad and you will be able to find the best you might like in sales.
The possibility of evolution.
When you work in sales, you'll never find yourself in a dead-end job. Nearly 20% of people in CEO positions started their careers somewhere in sales, so if you're looking to work your way to the top then this is a good place to start. Don't think you can get by without a good chunk of hard work though – promotions in sales are strictly performance based, so you can't fake it until you make it.
However, the sales sector is hard work, so if you're looking for a job where you don't have to worry, don't choose this field!
You will never be bored in sales! This field is constantly evolving, and you will always learn new sales techniques and ways to improve your skills. If you are hungry for success and ambitious, the field of sales is just right for you!
You can work anywhere you like!
Sales is an extremely broad field and allows you to work in a wide range of industries from cosmetics to technology to automotive.  All companies need sales representatives! So you are spoilt for choice and can work in an area that interests you.
You can also work in a foreign company or simply abroad. Moreover, companies are very much demand for international profiles.
Flexible working hours.
Working in sales allows you to be in control of your schedule. Indeed, these jobs allow you a lot of flexibility in terms of your schedules and allows you to arrange your days as you wish.
You also have flexibility in your workplace: you can be on the move, work from home or even work in the office.
You can expand your professional network.
A career in sales will allow you to expand your professional network. You will meet people from different professional backgrounds, from business leaders to suppliers, and from cultural backgrounds.
Meeting new people also opens up many professional opportunities.
Thomas DUPORT
thomas.duport@talentedint.com
Talent Sales Account Manager
Talented International – Artificial Intelligence Recruiting
Barcelona – Berlin – Dublin – Paris
Phone : +33 1 84 88 97 97
Need more HR advice and recruitment tips? Get in touch with us!